PROJECT INSTRUCTIONS: Japanese Garden Bracelet
Experience the romance of leisurely meandering over the bridge,
around the pond, and through the fragrant flower and tea gardens!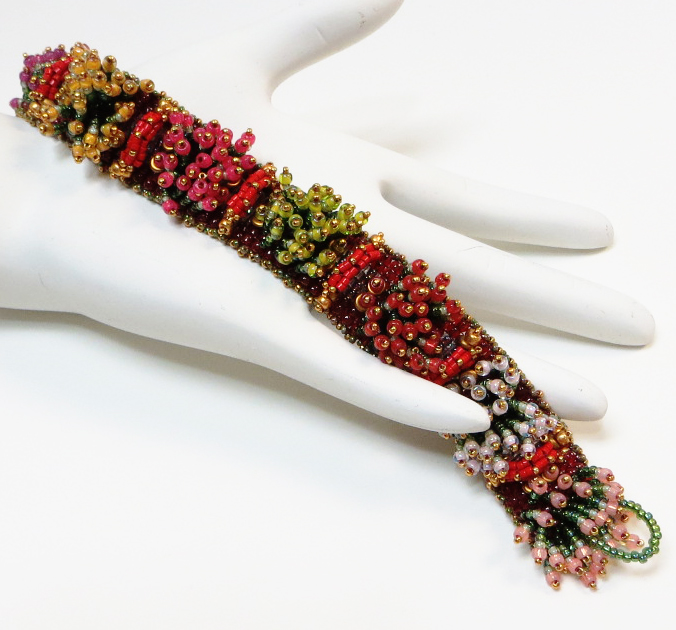 THE JAPANESE GARDEN BRACELET IS A FUN PROJECT THAT STUDENTS LOVE. IT IS FOR STUDENTS WHO HAVE SOME FAMILIARITY WITH BEAD WEAVING.

I HAD BEEN EXPERIMENTING WITH VARIOUS STRATEGIES FOR BEAD WEAVING AN "ARCH" SHAPE (PARABOLIC ARCH) WHICH CAN KEEP ITS PHYSICAL SHAPE WHILE THE BRACELET IS WORN. NOT AN EASY TASK. IT HAS REQUIRED HOURS AND HOURS OF TRIAL AND ERROR. THE FINAL CHOICES HERE WERE INFLUENCED BY THE ARCHITECTURE OF ANTONIO GAUDI, BUILDING A COLUMN IN SEGMENTS, AND THEN FORCING IT INTO A TIGHT ARCH CONFIGURATION.

THIS PROJECT IS ALSO A GOOD EXAMPLE OF HOW YOU CAN USE A NATURAL SETTING FOR INSPIRATION. THIS SETTING INFLUENCES COLOR CHOICE, COLOR POSITIONING, AS WELL AS SHAPE AND ITS PLACEMENT. THIS IS THE IMAGE THAT INSPIRED THIS PIECE.
LearnToBead Goals: How to...

- Select appropriate beads and thread for creating fringe

- Relate color choices to an image taken from nature

- Create a square stitch base

- Integrate pattern of base with pattern for top embellishment

- Create fringe

- Using the ladder stitch, design a parabolic arch to function as a bridge

- Embellish edges along your square stitch base using a book binding stitch

- Add a button clasp with loop